Year I visit Oakfield again!
Year I visit Oakfield again!
11 July 2019 (by cshuman)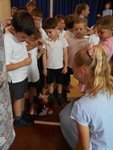 Year 1 were lucky enough to be invited to visit Oakfield School twice in one week! The first visit was to take part in an afternoon of fun activities which included music and biscuit making. The second was to watch a puppet show performed by year 6 using marionettes which they had made themselves.
Check out Hedgehogs page to see photos of the activity afternoon and Foxes page to see the puppets in action.