Otters Class
Mr McGovern
Mrs Davies, Mrs Holman, Mrs Duffy, Miss O'Donovan
Welcome to Year Two and Otters class.
We have had a very exciting first half-term in Year Two!
In English we have been studying the diary of Samuel Pepys. This linked very well to our history learning, all about the key events of the Great Fire of London. We read different diary entries and then recreated one of our own. We used description (adjectives and expanded noun phrases) to engage our audience. As part of National Poetry Day, we learnt about the different types of poetry. We used the theme of 'Refuge' to create an acrostic poem and then learnt about calligrams. Using our knowledge of verbs, we created our own autumnal calligram. Some of us described the leaves falling from the trees and the rain pattering onto the wet grass.
In Maths we have been extending our knowledge of place value. We now understand how we can use number bonds to help us solve problems. We can count in 2's, 3's, 5's and 10's and partition numbers in different ways.
In Science, we used our knowledge of different materials to discuss the importance of reducing, reusing and recycling. We want to take care of our world and know that these are great ways to do this.
In Design Technology we have been exploring different materials and their uses. We have been investigating how finger puppets are made and have been designing and making our own. To help us with this, we have learnt how to sew using a running stitch.
In PE we have been learning how to travel in different ways using low and high apparatus. We have used our imagination to move our bodies in different ways along the apparatus.
In Geography we have been learning about Kampong Ayer and comparing how people live their lives there. We have spotted similarities and differences between how we live our own lives.
We have really enjoyed our first half-term in year two. We are working more independently and showing greater resilience in our learning. We understand that it is OK to make mistakes, as they help us learn.
Please see what we are looking forward to next half-term below: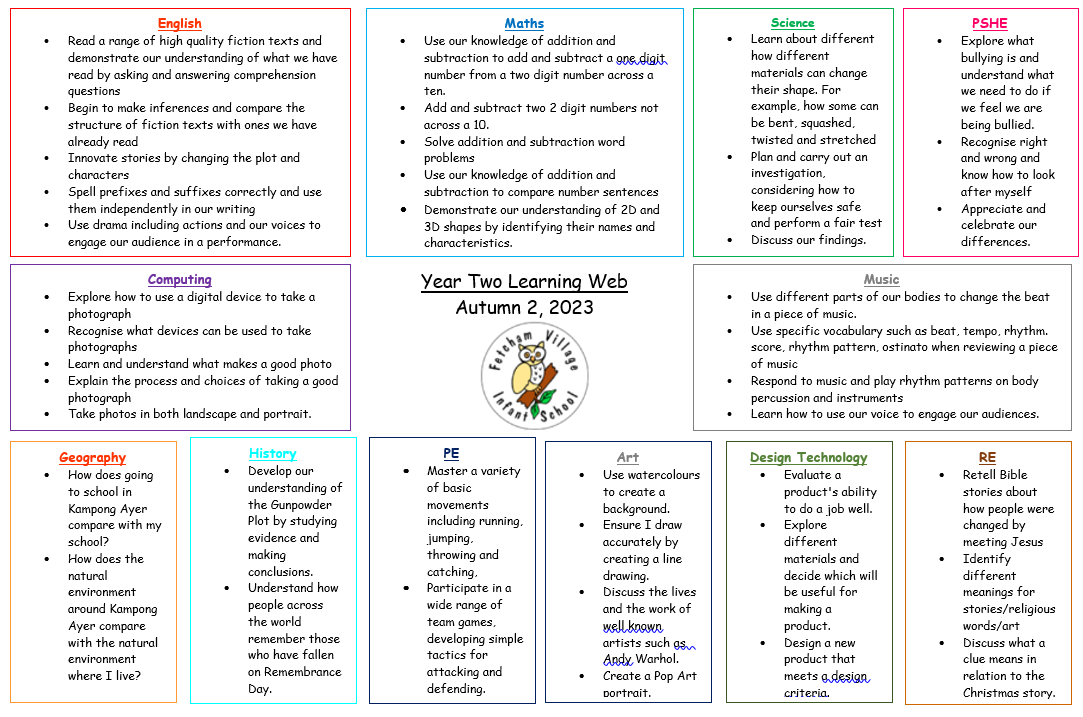 We started our year by learning about our rights and responsibilities and explored what we can do to make our class a brilliant and thriving community. We made our class Learning Charter which helps remind us of what we can do to help ourselves and others to enjoy our time in school.
In English, we have read the Pirates Next Door by Jonny Duddle. We sequenced the story using a story map, then used drama to perform events in the story to our class. We learnt how to make our writing exciting and innovated the story, becoming authors ourselves and rewriting a short section of the story. We are looking forward to learning about the diary of Samuel Pepys and will be writing a short diary piece of our own.
In Maths, we have been developing our knowledge of number and place value. We have been learning how to partition numbers and use our reasoning skills to help solve mathematical problems.
We have very much enjoyed learning about the different materials in our world in Science and exploring different fabrics in Design Technology. We have been keeping very active in our PE lessons, using dance to express ourselves and exploring how we can work as a team when playing games.
Welcome to Year Two Presentation
Please see our learning web below for more information on our learning. Thank you for visiting!
Please see Mr McGovern if you would like any more information on our curriculum.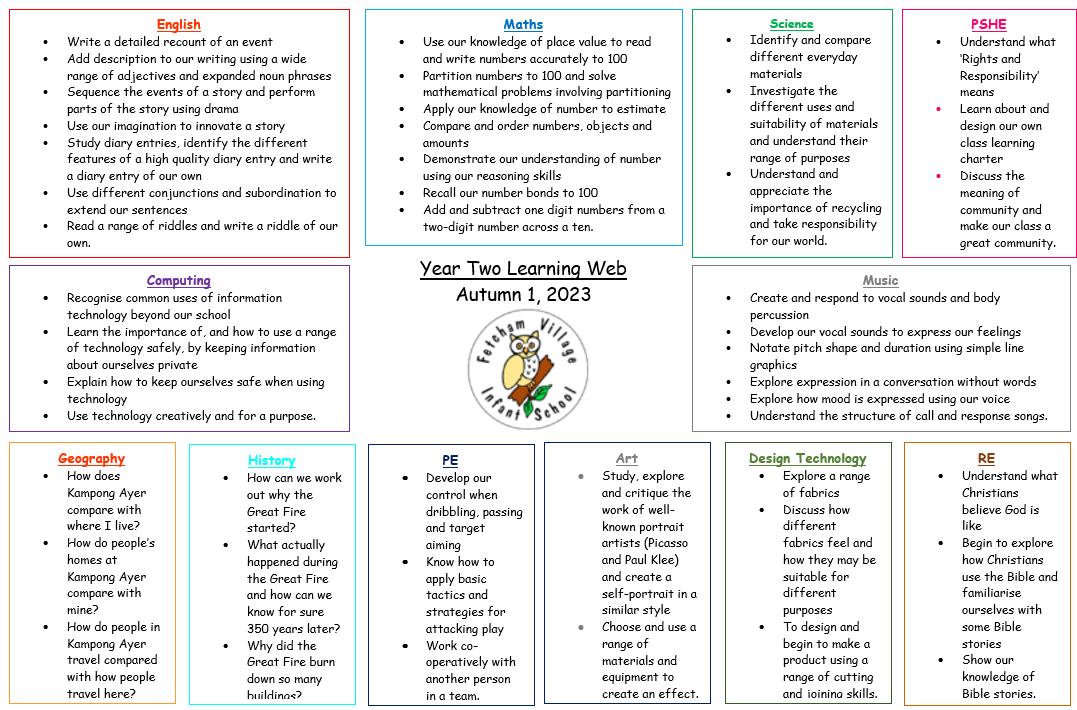 Please do contact our Year 2 Lead, Mr McGovern via the school office if you would like any more information on our Year 2 curriculum.
Follow these links to support your children's learning at home: