Sing Up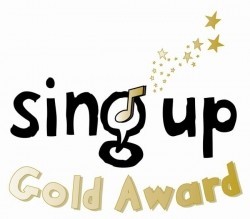 We are a Singing School !
FVIS has achieved the Gold Award in the Sing Up scheme!
The schemes awards celebrate and promote schools that value singing as an important part of each day.

The Awards support schools on their journey through the Sing Up programme, to make sure everyone gets the most from our resources and training.

Embracing a whole-school philosophy, the Sing Up Awards aim to:
help schools identify areas where they'd like help to introduce or improve singing
share good practice and showcase new work
provide a place for every school to achieve recognition
help schools to tailor their objectives

The Awards complement other initiatives and programmes, such as Healthy Schools and the School Sports Initiative. Similarly, the Every Child Matters objectives can be achieved through the Awards, by putting singing at the heart of school life.
Click here to find out more and take a look at our Gold Award below!