ICT Mark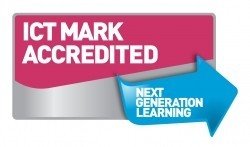 The Staff and Governors at FVIS are delighted to report that following our recent assessment visit, Fetcham Village Infant School has been approved for the ICT Mark award.
It marks the culmination of efforts over the last 3 years to develop and implement our ICT plan in line with the recommendations of the ICT Mark and self-review framework recommended and supported by the Department of Education. It involved everyone at the school, and some outside! The involvement and interest of you the parents is also important in providing the consistency we were looking for - so we must all be congratulated on a great job
But we must make special mention of the children – their enthusiasm and confident approach, not just during our inspection, is a credit to us all.
What is the ICT Mark?
The ICT Mark is an accreditation scheme available across the UK which recognises schools achieving a good standard of mature and effective use of technology.
Schools holding the ICT Mark have demonstrated that they are committed to using technology to improve their overall effectiveness and efficiency. They are more likely to be regarded as good or outstanding by Ofsted, and are able to demonstrate the impact of their investment in technology. They are also better qualified to share their strengths with other schools.
Evidence gathered to support accreditation can also be used to support the school self-evaluation framework used by Ofsted.
Important to us
The scheme fitted very well alongside our key objectives which were and are:
To integrate ICT across the whole curriculum
To improve the range of resources available to the staff and pupils
To provide a consistent ICT provision and approach
To inspire confidence from pupils, staff, parents, and governors
To extend the teaching and learning of ICT to include our wider community
Extract from Our Report
ICT has become an integral part of the school's everyday life and leaders find it difficult to see it in any way as separate when considering future whole school development. Those spoken to during the assessment visit rightly used words such as 'embedded' and 'seamless' to describe the position that the school is now at with regard to ICT.
The journey the school has made over the past few years has been ably led by the subject leader, with strong support from the head teacher, senior leadership team and governors. It is clear that there is now an increasingly widespread sense of ownership and shared responsibility amongst staff for both the use of ICT and ongoing review and development. The school is therefore strongly placed to build on current good practice and further develop the use of ICT to support learning and teaching.
There is good support for staff in their use of ICT with regular audits which identify specific training needs in relation to the curriculum being delivered as well as whole school developments. Training is both formal and informal and is delivered through external and internal provision as appropriate.
Appropriate policies and procedures are in place with respect to e-safety. Rules are clearly displayed and children were able to talk about the safe use of the internet including using the Hector's World Safety Button provided by CEOP. E-safety
More information
Take a look at our full report – a link is included at the bottom of this bulletin or visit the Naace Website http://www.naace.co.uk/ictmark.