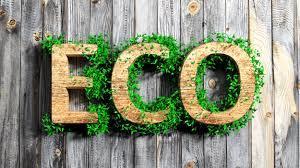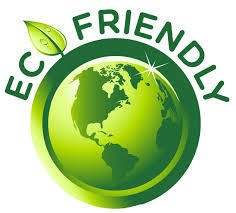 Meet our Eco Warriors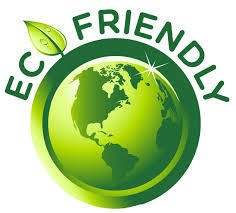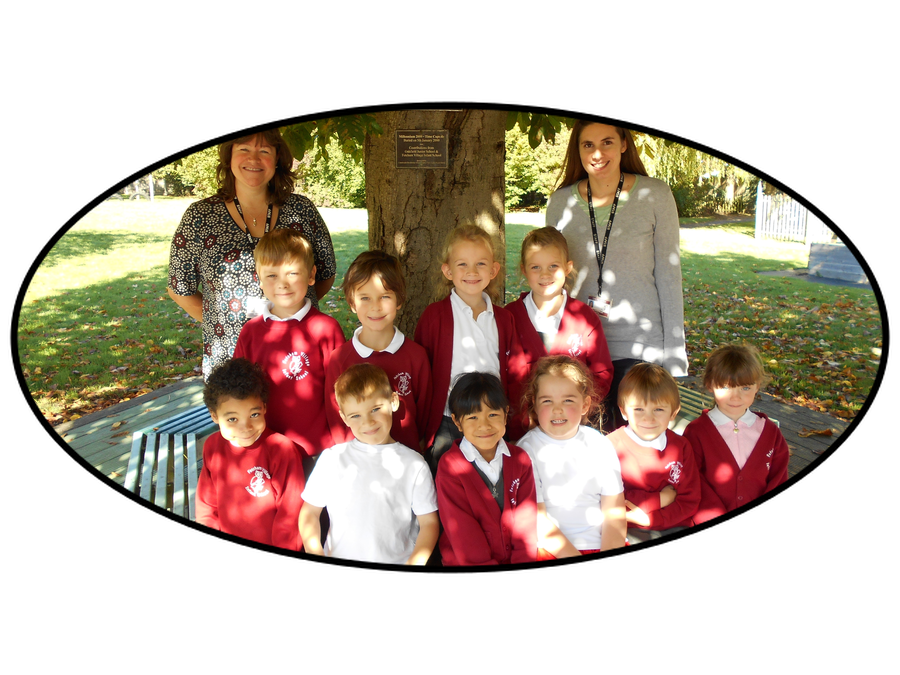 It has arrived! Over the last couple of years we have been busy designing our 'sensory garden.' Lots of work has been done already to transform this area - a BIG thank you to everyone who has helped out at an 'outdoor working party' events to make this possible!
Our most recent addition is our water feature. The children looked at different sources of energy and were keen to include a water feature that is powered by a bike. This was an ideal project for a local secondary school. So students from Stanley Park High, with the support of Mr Amin and his staff, have worked hard for over a year to bring this idea to life. Well now it has arrived and our Eco Pals were the first to try it out. There is still work to be done but it is lovely to see it in action.
Many thanks to all the staff and students from Stanley Park High who have made this possible!
GREAT NEWS!
Fetcham Village Infant School have been awarded
the Green Flag again!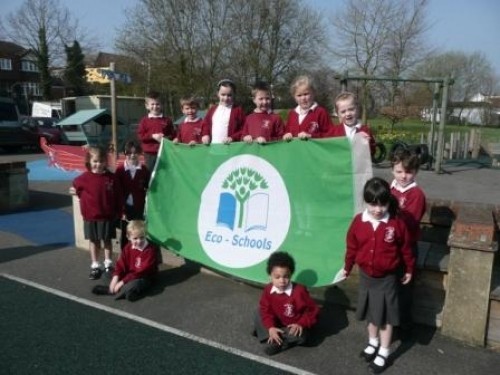 The assessor who came to look around the school and spoke to the Eco Pals made the following comments:
" Fetcham Village School is an excellent example of how Eco-Schools work can be very fully and successfully integrated into the overall values of the school. The recent 'waste week' project, undertaken by the whole school, resulted in many highly original pieces of multi-media artwork using a range of 'waste materials.' The Eco-pals are very enthusiastic and well informed. They are very well supported by the two coordinators and other members of the school staff and governors."
Science into Schools Textile Collection.
We also want to thank everyone who helped to donate textiles for our
recent collection. We managed to collect 110 bags!
We are pleased to let you know that as a school we have diverted
460kg of textiles from landfill sites. As a result we have been
awarded 18,400 Science into Schools Points.
During Waste Week Y2 took part in a national
competition called 'Climate Challenge.' The
children were asked to design something that would
help to save energy that we waste heating water and
We are pleased to announce:
Fetcham came 3rd in our category!
Well done Year 2!
WASTE WEEK!
All week we have been looking at ways to help
Reduce, Reuse and Recycle.
We've thought particularly about plastic bottles as
around half of the plastic bottles that could be
recycled end up in landfill sites.
So to raise awareness, here are some sculptures that
each class made using plastic bottles.
Here are some other things that have been going on:
Our outside area is looking good too! Lots of volunteers helped to clear some of the log piles, tidy up the compost area, add some balance beams to our woods and paint some of the outside equipment and much, much more!
Gardening club have also been busy!
Look at something they have made to give the birds
some nesting materials.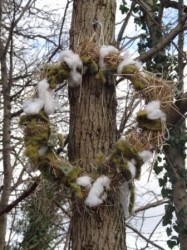 Here is a link to the Eco Schools Award Programme